How is and will London be impacted by climate change?
From burning summers in 2003 to flash floods earlier this year, London is already feeling the impacts of climate change.  The Government's latest UK Climate Change Projections suggest that by the 2050s, London could see an increase in mean summer temperature of 2.7 degrees, an increase in mean winter rainfall of 15% and a decrease in mean summer rainfall of 18%.
London Mayor Sadiq Khan said, 'London is at a crossroads. We either take bold action now or face the consequences - with catastrophic impacts on our environment, the air we breathe and the climate.'
New Climate Vulnerability Mapping produced by members City Hall and Bloomberg Associates shows London boroughs most at risk from flooding and overheating over the next decade.
The boroughs at particularly high risk, meaning that the risk of both flooding and overheating are very high, putting lives and livelihoods at risk, are:
Hackney

Hammersmith and Fulham

Islington

Brent

Tower Hamlets

Newham
More generally, the Climate Vulnerability Mapping has identified that:
a quarter of London's Tube Stations, and 1 in 10 of the rail network altogether, are at high risk of flooding in the future if extreme temperatures and flooding get worse.

1 in 5 of our schools are either totally or partially at risk of flooding and nearly half of our hospitals.

there are nearly 200,000 existing homes and workplaces in London that are at either high or medium risk of surface water flooding alone, leaving over a million Londoners at risk.
Which of our members fund environmental work?
From our annual member audit (completed by 58% of our members), we can see that only 4% of our members define themselves as funding environmental work.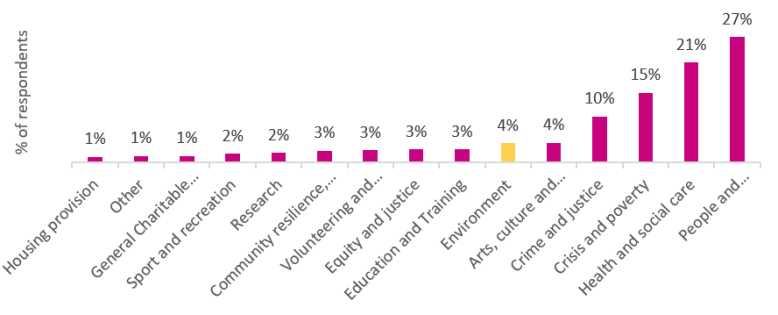 Breaking this down we can see that work on urban and green spaces is getting the most funding.
Looking at open data sources we can also see that funding is going into environmental work ranging from local communities work in green spaces to advocacy and educational work to core funding for climate focused organisations. From open data available on GrantNav we can see that there was a spike in 2020 in funding climate change organisations and projects, which we expect to see as a continuing trend.

The Environmental Funders Network (EFN) have reported they are seeing the climate emergency attracting increased attention from funders, including those not traditionally supporting environmental causes.
However, in their new report, they've seen that foundation funding directed within the UK that 38.2% supported work at the national level, down from 45.5% in the previous period and continuing a downward trend overall in the share of national-level funding. As in previous years, grants directed towards national-level work tended to be larger (average size £50,000) than those directed towards sub-national work (average size £29,300). Of all the sub-national regions, London received the largest share of foundation funding at 15.2% (up from 9.6%), as well as the highest amount per capita (£3.68).
EFN initiated a mapping exercise in 2020 to gather information on climate-related grant making from funders that participate in EFN's Climate Funders Group. Data were submitted by 23 funders with annual budgets for climate-related work totalling at least £190 million collectively. They not only looked at what topics are being funded (Terrestrial ecosystems & land use coming out on top) but the approaches supported by the most funders.